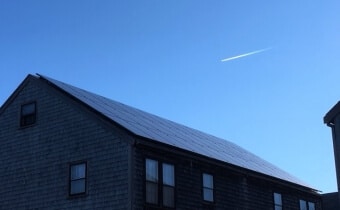 My Generation Energy Brings Solar to Nantucket
My Generation Energy was very excited to install solar panels on this Nantucket, MA home. This 36 panel array is expected to produce over 12,000 kWh per year!
Within the past year, Nantucket has been proactively encouraging home owners to go green by offering the Nantucket Solar Rebate Program. The idea behind the rebate program is to increase renewable energy generation to help "green" the local electric supply and reduce the summer peak load, which will in turn reduce electric supply and distribution costs.  Rebates of up to $2500 are available on a first come, first served basis. Don't miss out! Let My Generation Energy help you install your solar array, today!