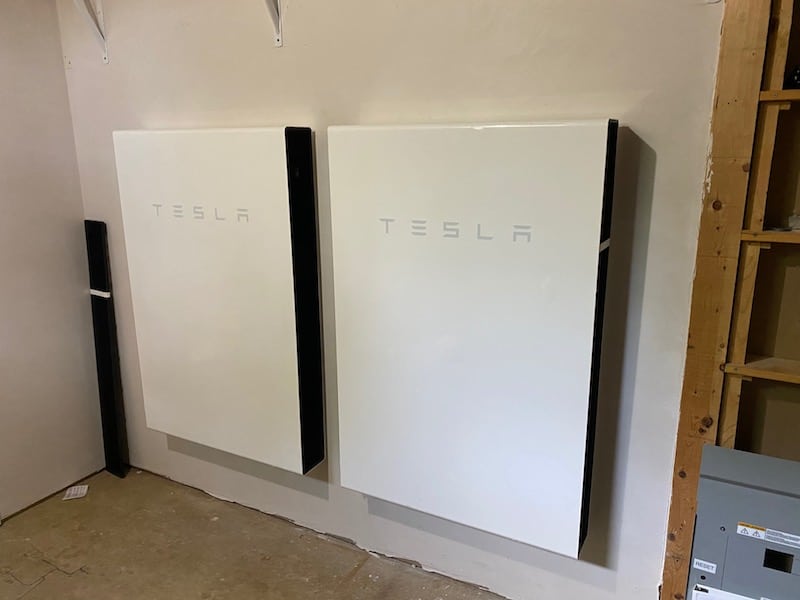 More and more Massachusetts homeowners are discovering the benefits of adding solar battery storage to the solar panels at their home. Whether you already have solar panels on your roof and want to maximize your solar energy savings or you're thinking about going solar and want to make sure you get the most out of your investment, you likely have questions about how solar batteries actually work.
Here are some of the most common queries we're asked at My Generation Energy about solar batteries. Learn more about all the ways you can benefit from solar + storage with Cape Cod's leading solar installation team.
1. "If I lose power and am using my solar battery to power the house, can my solar panels recharge the battery at the same time?"
Yes! One of the main benefits of solar batteries is that they can help you keep the lights and your essential loads on in your home when your electricity company-like Eversource or National Grid-experiences an outage. Due to safety requirements, when a power outage occurs, your solar panels will be temporarily disconnected from the grid and your solar plus battery system will operate in an "off-grid" mode.  As long as the sun is shining, your solar panels will continue to recharge your solar battery, even if your home is drawing power from it at the same time.
2. "Can a single solar battery power my entire home during a power outage?"
The majority of residential solar panel systems are grid-tied, meaning they're connected to the electricity grid and not completely self-sufficient. Solar batteries can be a lifesaver during a power outage, but many homeowners have asked us if a single solar battery can keep their entire home running. The answer is likely no-your solar battery will be able to keep essentials running for a period of time-like your fridge, furnace and hot water heater, along with some essential power outlets-but multiple batteries would be needed to power your entire home.
3. "Are Mass Save® HEAT loans still available for solar battery installation in 2021?"
The Mass Save® HEAT Loan is one of the best financing options available to solar owners, offering zero-interest financing as well as up to $25,000 in energy-efficient upgrades.  For a solar battery HEAT Loan, customers can receive financing to cover the material and labor costs for participating in the ConnectedSolutions program (more on that below). However, HEAT Loans can't be used towards solar PV or solar battery installation for backup power only.  And yes, HEAT Loans are still available in 2021! 
4. "If I'm enrolled in the ConnectedSolutions program, will I be able to use electricity from my solar battery whenever I want?"
Mass Save®'s ConnectedSolutions program is another fantastic Massachusetts solar incentive, specifically for solar battery owners in some areas that are utility customers of National Grid or Eversource. When you enroll in the program, your utility company will draw electricity stored in your battery back to the grid to help balance out the load during peak energy times, this is called demand response. In exchange, you'll be paid twice a year for your energy!
During these 'discharge events' which last no longer than a maximum of 3 hours at a time, the utility calls on your battery to discharge. These events would only occur between the hours of 2:00pm to 7:00pm up to 60 times during the summer and up to 5 times during the winter. Enrollment in ConnectedSolutions does not impact the personal use of your battery.
5. "What's the status of the federal solar tax credit for solar battery installations in 2021?"
As long as your residential solar battery is being charged by an on-site renewable resource like your solar panels, it's likely eligible for the federal solar tax credit (also called the solar ITC). You would also need to own your system and the property where it is installed. This popular incentive allows you to take a federal tax credit equal to a certain percentage of your solar panel or solar battery installation costs.
The federal solar tax credit was expected to decline in 2021 and be completely eliminated for homeowners in 2022. However, last-minute legislation extended the tax credit for another few years, and if you decide to upgrade to a solar battery system in 2021, you'll qualify for a 26% credit!
6. "Where will my solar battery be installed?"
Due to the cold winter weather here in Massachusetts, solar batteries need to be installed inside, as the outdoor temperatures will, at certain points of the year, drop below the operating temperature of the battery. For example, Tesla Powerwall recommends indoor installation in climates that have ranges outside of 32°F to 86°F. 
That said, many solar battery options are slim and compact in size, and we can find a discreet location to install your solar battery indoors, like in your basement, garage, or cellar. 
7. "What solar battery manufacturers do you carry? Can I buy a Tesla Powerwall from My Generation Energy?"
There is a wide range of solar energy storage options from different manufacturers to choose from. At My Generation Energy, we don't carry every single one, as we feel strongly that the products we do sell and install need to meet our own high standards for quality and reliability. Here are the solar batteries we carry:
Tesla Powerwall

Enphase Encharge

sonnenBatterie

LG Chem RESU
Find out how solar battery storage can benefit your home. Get a quote from My Generation Energy today.