For over three years now, the Brewster Community Solar Garden®cooperative has helped Brewster residents save on their electricity bills.  The electricity that the solar garden produces is allocated to member's electricity bills which greatly reduce the amount they pay to NSTAR (now Eversource).   My Generation Energy completed the large solar array in early 2012 and since then it has produced nearly 1.5 Gigawatt/hours of clean electricity! That's enough to power nearly 180 average homes in the US for a year.
Because of the success of the Brewster Community Solar Garden, My Generation Energy has teamed up in developing the Sippican Community Solar Garden® project by constructing a new solar garden for Eversource customers in Southeastern MA.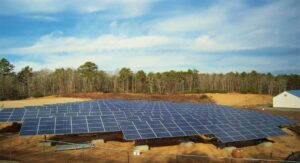 A new Community Solar Garden- being constructed in Marion, MA
"Following the success of the Community Solar Garden® program in Brewster we're pleased to bring this Cooperative approach to electric bill savings to all of Southeastern Massachusetts Eversource territory.
With members from 21 cities and towns, from Dartmouth to Provincetown, Duxbury to Falmouth, the savings from our newest Cooperative, the Sippican Community Solar Garden® Cooperative, are reaching nearly every corner of the region. Members are advancing clean energy and are set to save thousands over the next decade.
Time is available to sign up before the April 10th Enrollment Deadline but the remaining membership spots are filling up." – Michael Stone, Manager, Suntility
To learn more visit www.sippicancommunitysolargarden.com or call 508-538-4-Sun.