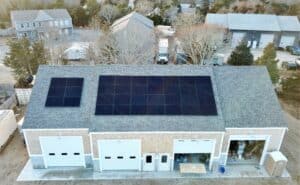 This commercial solar array in Eastham (Cape Cod, Massachusetts) boasts 34 solar panels and a perfect 100% effectiveness rate. As a result, it will produce 15,484 kWh of solar energy annually and save its owner over $6,000 each year.
New technology and policies make solar energy a financial "no-brainer" for businesses. Solar panels are efficient and cost-effective, and the tax credits and other financial incentives are phenomenal. Business owners can depreciate solar electric systems as part of the Modified Accelerated Cost-Recovery System (MACRS). In addition, solar systems operate for 25+ years with little or no maintenance, and pay for themselves many times over before their warranties run out. Therefore, it's no wonder that businesses are installing these systems at an exponentially increasing rate.
Contact us to learn more about commercial solar installation on Cape Cod or elsewhere in Massachusetts.