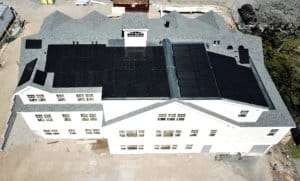 This Cape Cod commercial solar installation on Chatham Works' roof will save its owner nearly $11,000 on electricity every year! And by generating 32,159 kWh of clean energy annually, it will also offset the amount of carbon dioxide emitted by 5 cars driven for 1 year each.
Chatham Works is a unique blend of fitness center, coworking space, and retail shopping in the heart of North Chatham.
Reduce your operating costs
Solar can help Chatham business owners lessen their carbon footprint, but it can also save them a lot of money. For example, Inc.com states that the average commercial property owner can reduce electricity bills by 75% with solar. For small businesses, that number may be even higher.
A site visit will give us the information we need to provide you with an accurate solar estimate. Contact us today for a free solar assessment of your business or nonprofit.
Affordable solar
Federal & state governments provide irresistible incentives to businesses that go solar. Companies that complete solar installations in 2020 receive a 26% federal tax credit. In addition, accelerated depreciation (MACRS) provides even more benefits.
Green your business
The financial benefits make going solar a no-brainer for businesses, but lowering your company's carbon emissions is just as important. In addition, customers prefer environmentally friendly businesses. According to Forbes, "consumers are looking for more environmental accountability from companies, and some are willing to pay extra for more sustainable products."
The bottom line
Commercial solar provides plentiful utility savings and a leg up on the green business movement. Thus, Cape Cod businesses like this one in Chatham are wise to consider it.
Contact us with any questions or to schedule your site assessment.
Contact us for a free site assessment Find out if solar could work for you!