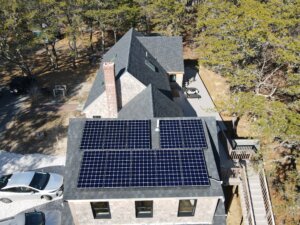 As we say good-bye to our winter coats, and welcome in spring flowers, our long, dark, chilly'ish winter has finally come to an end! With more hours of sunlight, our solar customers will enjoy the benefits of extended renewable power.
If you've ever considered going solar, now is the perfect time! One of the biggest benefits of upgrading your home to include solar power is the ongoing cost savings you'll receive for decades.  
Solar Incentives
There are some significant solar incentives available for homeowners and businesses. The biggest incentive, without a doubt, is the Inflation Reduction Act.  This landmark piece of legislation is the "largest investment to fight climate change" in US history, and it's estimated to reduce greenhouse gas emissions by 40% by 2030 (in comparison to 2005 levels).
Perhaps most important for home and business owners considering going solar, is the tax credit has been increased to 30% through 2032. This is great news for those who are considering going solar.
Save the Environment
Solar offers more than incredible financial benefits. This clean energy source is also an excellent investment for the environment. Solar panels do not create air pollution or greenhouse gases. Which means that going solar can ease the impact of climate change.
Contact us today to learn more or schedule a free site assessment.
Contact us for a free site assessment Find out if solar could work for your home!