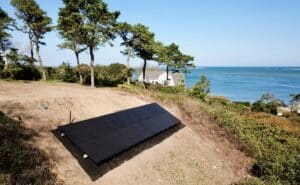 Ground-mounted solar arrays are an excellent way to take advantage of unused land space around your home or business. This ground-mounted solar installation in Chatham, Massachusetts will save its owner roughly $3,560 each year! Producing 9,618 kWh of clean energy annually, the array is visually tucked away on a Cape Cod bluff overlooking Pleasant Bay.
Many Cape Cod homeowners appreciate solar for its environmental benefits, but its financial benefits – especially in Massachusetts – are also noteworthy. Boston.com states, "the average Massachusetts household can save an estimated $35,900 over the next 20 years by installing a rooftop solar system."
Ground Mount to Rooftop Solar
From Chatham to Chelsea, we provide free solar assessments for sites all over Massachusetts. Contact us for yours, after which we can customize a cost estimate for your home or business.
While Consumer Reports determined that "buying your solar electric system outright is best," homeowners have other options. For example, the Mass Solar Loan program enables residents to go solar even if they can't afford to own their own systems.
In addition, solar panels add significant value to your home. "Solar panels raise a home's value by 4.1%," according to Money.
The first step in determining if solar is right for your home or business is a free site assessment. Contact us today to schedule yours!
Contact us for a free site assessment Find out if ground-mounted solar could work for your home!