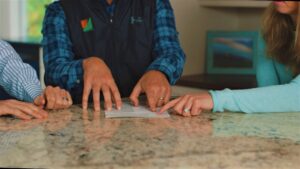 Wondering how the Trump Administration's 30% tariff on imported solar panels will affect the solar industry?
Th­e good news is that it has much less of an impact than originally anticipated. My Generation Energy's President, Andrew Wade, recently authored the following explanation, originally posted on
Cape & Plymouth Business's site
.
What are tariffs, and how will they work?
A tariff is a tax on imports or exports. One type of tariff is calculated as a fixed percentage on the item, others are calculated as a fixed dollar amount. The new solar tariff imposes a 30% tax on imported panels in year one.

If you are thinking about going solar, that is actually preferable to a fixed solar amount. Because the tariff is percentage-based, its impact on prices will shrink annually as the price of imported solar panels falls. Due to advances in solar manufacturing, the cost of solar panels has fallen between 2-6% per year for several years.

According to a fact sheet released by the U.S. Trade Representative, this tariff will last 4 years and will fall by 5% annually, dropping to a 15% tariff in 2021. Market experts estimate an increased module price around $0.11/watt in year one, reducing to $0.04/watt by year four.
How will the solar tariff impact the costs to homeowners?
For a typical residential installation, homeowners can expect a maximum 4% increase on the cost of the panels themselves. This will have a minimal impact on the total cost of the system. In addition, the homeowner will further benefit from the 30% federal tax credit they receive for owning the system.

In addition to the solar tariff, the current state-based SREC incentive program (Solar Renewable Energy Certificates) has reached its cap and is leading the state to a new program. The Solar Massachusetts Renewable Target (SMART) program will likely begin summer 2018. Until then, homeowners are still eligible for the SREC II program.

So, what's the difference? With SRECs, you receive a certificate that you can trade on the market. The certificate's value varies depending on market conditions, including supply and demand. SMART, on the other hand, is a fixed rate. Once you're awarded a particular incentive amount per kWh, the incentive rate is set for the duration of the incentive program.

Another big difference between the SREC program and SMART is that SMART offers bonuses for particular types of installations. These "adders" increase the per-kWh incentive for low-income households, community solar gardens, and other innovative solar applications.

With the potential for further changes in incentive programs, now is a great time to investigate solar. Contact us to find the best solution for your situation.
SaveSave
SaveSave