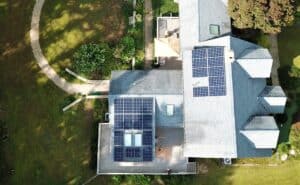 The owner of this Middleboro solar installation will save $3,225 every year on utility bills! This residential solar array in Plymouth County generates an estimated 8,716 kWh of clean energy annually.
Adding A Solar Battery
Benefits of Going Solar in Middleborough
The benefits of going solar are great for Middleborough residents. As a recent Boston.com article stated, "The average Massachusetts household can save an estimated $35,900 over the next 20 years by installing a rooftop solar system." And that doesn't even include the savings from a solar battery!
Where do you fall in that estimated savings range? Contact us and we'll deliver a free site assessment for your home or business.
"Buying your solar electric system outright is best," according to Consumer Reports' research. But if your finances won't permit that, the Mass Solar Loan program can provide a more affordable way to go solar. A loan allows you to purchase your solar array up front so that you can take advantage of solar savings.
Increase your home's value with solar
All your savings on electric bills don't account for another big solar reward: the increase in your home's value. Money.com estimates that "solar panels raise a home's value by 4.1%." Even when you sell your home, you will still be making money from your solar installation.
Contact us for a free site assessment Find out if solar could work for your Middleborough home!