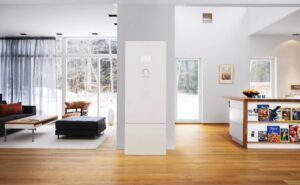 My Generation Energy is now a Sonnen Certified Partner! Sonnen's solar battery offers protection from power outages. In addition, it also ensures that your system will continue to harvest energy even when the power's out. This is the future of solar energy!
Sonnen offers the absolute best in quality, as their laundry list of awards and recognitions showcases. For example, they've received Bloomberg's New Energy Pioneer Award, MIT named them one of the Top 50 Smartest Companies, and Fast Company included them on their list of the 10 Most Innovative Companies. The Sonnen solar battery uses lithium-iron phosphate (LiFePO4) technology, one of the most reliable, safe, and long-lasting lithium battery technologies available. Sonnen guarantees their battery systems for 10,000 cycles or 10 years.
My Generation Energy is proud to provide this additional service to solar customers new and old. Don't hesitate to contact us to learn more about the Sonnen solar battery to see if it's a good fit for you.
SaveSave
SaveSave