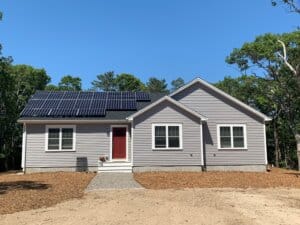 Located just south of the northern tip of Cape Cod, this Truro, Massachusetts residential solar array is estimated to save its owners $2,713 annually and generates over 7,900 kWh of clean energy each year.  That's the equivalent of 1.9 tons of waste recycled instead of landfilled each year!
Solar helps Truro residents save money and the environment
Protecting the environment is as important to Cape Codders as saving money, and going solar can help residents achieve both. "The average Massachusetts household can save an estimated $35,900 over the next 20 years by installing a rooftop solar system," according to Boston.com,
If you live or work in Massachusetts, contact us for a free solar site assessment. A site visit to your home or business allows us to give you an accurate estimate for solar. We may also be able to make cost-saving suggestions once we've made an evaluation.
Solar incentives and financing
Consumer Reports suggests buying your solar electric system outright. If you can't afford to purchase your solar array up front, check out the Mass Solar Loan program. It makes solar purchases more manageable by allowing you to finance the cost of your installation. We can help you file and submit the paperwork needed for your project's approval.
Earn money with solar
Solar panels not only help you save money on electricity, but they also add value to your home. Money states that "solar panels raise a home's value by 4.1%." That's even more money in your pocket when it comes time to put your home on the market.
Contact us today to learn more or schedule a free, no-contact site assessment.
Contact us for a free site assessment Find out if solar could work for your Dennis home!