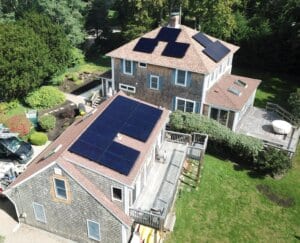 The homeowners of this Eastham residential solar installation will save over $3,335 annually! Located on Cape Cod, this solar array stands to generate more than 10,105 kWh of clean solar energy each year. That's the equivalent of 15,713 tons of waste recycled instead of landfilled!
Save Money with Solar
Cape Cod residents are passionate about saving the environment, and this passion can help them save money when they choose solar. According to Boston.com, "the average Massachusetts household can save an estimated $35,900 over the next 20 years by installing a rooftop solar system."
If you're curious about how much you could save, we encourage Cape Cod residents and business owners to contact us for a free solar assessment. Since every property is unique, a site assessment helps us provide you with an accurate estimate.
If you want to see an even larger return on your investment, buying your solar electric system outright provides the most savings (Consumer Reports agrees). However, if you are reluctant about solar's up-front costs, there are solar loans available. Financing like this can make solar installation more financially accessible for homeowners. We are happy to help educate and guide you through the process. We can even help you file the paperwork if you decide to pursue a solar loan.
Earn Money with Solar
Solar energy does more than help you save money on electricity. Choosing solar can also increase your home's market value. According to Money magazine,  "solar panels increase a home's value by 4.1%." For a $450,000 home, that translates to a savings of $18,450!
As clean energy continues to become more mainstream, solar homes are projected to be more valuable in the future. Therefore, your solar installation will continue to save you money even if you decide to sell your home.
Updates to Solar Incentives
Perhaps most important for home and business owners considering going solar, the Inflation Reduction Act of 2022 makes some big changes to the solar Investment Tax Credit (ITC), more commonly known as the federal solar tax credit. These changes include:
The tax credit has been increased to 30% through 2032 (when it will step down over several years before being eliminated for residential solar installations).
The 30% tax credit rate is retroactive for all of 2022, so anyone who has already installed or will be installing solar by the end of this year can qualify.
Direct-pay option now allows certain tax-exempt entities and non-profit organizations to take advantage of the solar tax credit
This is great news for those who have already finished solar installation this year, for those who were expecting to only qualify for a 26% credit, and for anyone looking for a good excuse to reach out to a solar company near them to add panels to their home or business as soon as possible.
Save the Environment
Solar offers more than incredible financial benefits. This clean energy source is also an excellent investment for the environment. Solar panels do not create air pollution or greenhouse gases. Which means that going solar can ease the impact of climate change.
Contact us today to learn more or schedule a free, no-contact site assessment.
Contact us for a free site assessment Find out if solar could work for your Orleans home!