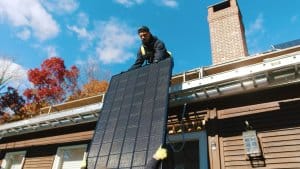 If you're a Massachusetts homeowner who has been looking into residential solar panel installation for your home, or a business owner interested in using commercial solar to reduce your operating costs, you may have heard about a particular solar incentive program called SMART. What is the MA SMART solar program, and how can you use it to save even more money with your solar energy system?
What Is the SMART Program?
SMART, or Solar Massachusetts Renewable Target, is an incentive program developed by Massachusetts' Department of Energy Resources to expand solar energy development in the state by paying cash for green energy production. Launched in 2018, it replaced a previous program called SREC (Solar Renewable Energy Credit), which had been running since 2010.
Under the SMART program, homeowners and businesses that have installed solar panel systems are paid a flat rate by state utility companies (National Grid, Eversource, Unitil) for the electricity their PV (photovoltaic) panels produce. This rate is paid out monthly for a duration of 10 years—or 20 years for larger commercial projects. This means your utility will be paying you, for a change!
The rate amount is largely determined by:
–The utility company service area your system is located in
–How quickly you enroll in the program (and which capacity block you qualify for—more on that in a second)
–The size of your solar PV system
The highest rates go to those who sign up early, low-income households, and smaller systems (25 kW or less), but you can also increase your dollar-per-kW rate by adding solar battery storage to your system, among other bonus incentives.
Not served by National Grid, Eversource or Unitil? Homeowners and business owners based in cities and towns served by participating municipal light districts or plants may also take advantage of a modified version of the SMART program. Contact us for details or learn more here if you live in one of these areas.
MA SMART Program Blocks Explained
Determining the rate you'll be paid for your solar energy depends a lot on one of the more unique aspects of the SMART program: its decreasing "capacity block" system.
SMART is made up of blocks of 200 megawatts (MW) each. Within each 200 MW block, there are separate capacity blocks for each utility and its corresponding territory. Once a block is filled up, solar projects are placed in the next capacity block, which has a slightly lower compensation rate.
In this way, you're incentivized to sign up early, as the longer you wait, the less you'll get paid for your solar electricity production.
Recent Changes and Current SMART Solar Block Status
When the SMART program kicked off, there were 8 total blocks available, for a total capacity of 1.6 gigawatts (GW). In early 2020, the state doubled the program's capacity to 3.2 gigawatts, adding an additional 8 capacity blocks to qualify for. This ensures that even more home and business owners will be getting money back for years to come on their solar energy systems.
The below chart is an example of how the declining block program works, showing blocks 1-8. Blocks 9-16 are not included. There may be potential adders to the base compensation rates that are not reflected in the chart below.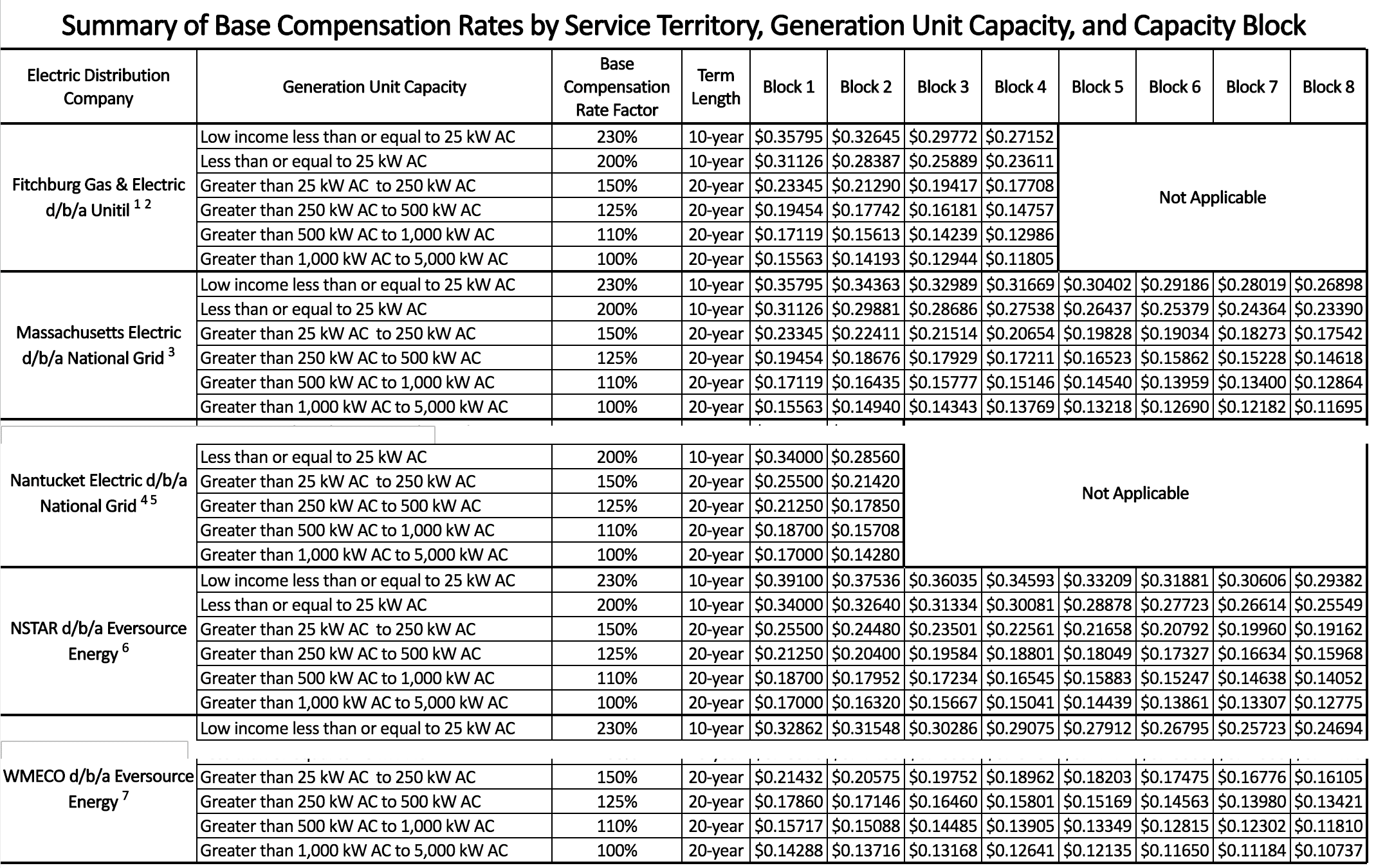 Get More From Solar with SMART Incentives and Solar Rebates
At My Generation Energy, we'll help you take advantage of the many residential and commercial Massachusetts solar incentives available, including the SMART solar program and state & federal solar tax credits. Plus, solar financing with a solar loan, such as Mass Solar Loan, can help you get the ball rolling on solar and start benefiting with affordable interest rates.
Curious to see what your home or business could qualify for? Give our team of solar experts a call today, and find out how My Generation Energy can help you benefit from the power of solar.
Need the MA SMART solar incentive program explained further? Call 508-694-6884 or contact us today to learn more about all the ways you can save with solar panel installation.
Get paid for the solar power you produce. Find out how much you could make with SMART incentives.