Looking to solarize your home or business? There are both environmental and financial benefits when you go solar in Yarmouth and take advantage of free and clean renewable energy to power your house or business. But you shouldn't take hiring a solar company lightly!
When you're looking for the right solar installer, the best advice we can give is to review your options and find out more about the different solar companies serving Yarmouth and Cape Cod. Just like any major purchase for your home, comparing PV installers can give you a sense of who will best help you make the most out of your solar installation project. Here are a few tips for finding the right company to partner with.
Learn More About Your Solar Company's History in Yarmouth
As any Cape Cod resident knows, our weather's different from the rest of Massachusetts, which puts unique stresses on our homes and buildings. When installing solar panels on your roof, you'll want to make sure that they are installed correctly for our local climate by a company that's familiar with solar installations in the town of Yarmouth, and Cape Cod in general.
My Generation Energy has an extensive record not only on the Cape, but in Yarmouth and the surrounding towns as well, including:
– 21 solar installation projects in Yarmouth
– 10 years of Yarmouth solar installation history
– 322 solar installation projects on Cape Cod since the start of the state's SMART program (Nov. 2018)
In the same way that you'd likely rather have your home improvement project handled by a local Cape Cod contractor, entrusting your home and solar installation to a local Cape Cod solar company means you'll be supporting a local business and going with an installation crew deeply familiar with your neighborhood, any historic districts you might live in, and what it takes to ensure solar success for years and years to come. We're proud to say that few Massachusetts solar installers can compete with our Cape Cod experience!
Remember: Cheaper Doesn't Mean Better
When you're comparing prices to install solar panels on your Yarmouth home or business, we know how tempting it can be to go with the least expensive quote. But not all solar panels are made the same, and the panels and equipment you use can make a dramatic difference not only in how much electricity your panels are able to generate, but in whether your solar PV system will continue to operate reliably for years to come.
My Generation Energy offers fair, competitive prices, but we don't cut corners to make prices more attractive. From using industry-leading solar panels to wire sizing and even upgrading every system to stainless steel fasteners, we want your residential solar installation job to be done right and to last a long time without things breaking or needing maintenance down the road to keep your panels in service. If you do need solar panel maintenance or add-on services like critter guards or snow guards, we can do that too! We want you to be just as happy 10 years from now as you will be when your panels are first installed.
Talk to the Best Solar Company in Yarmouth Today
Ready to solarize your home or business? Reach out to My Generation Energy and meet the installers who are likely responsible for the solar panels you've noticed on your neighbor's house down the street or along the Old King's Highway Historic District.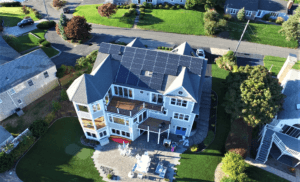 Why My Generation Energy:
When you get in touch with our team, we'll take the time to learn about your family's electricity needs as well as your Yarmouth home, so that we can give you a free quote on solar installation. We'll even lay out the options you have for solar battery storage and the various solar incentives you'll be eligible for, which you can take advantage of to reduce your upfront installation costs and lower your monthly energy costs year-round.
Upgrade your Yarmouth home today.
Go solar with My Generation Energy.