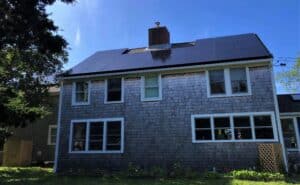 This home solar installation in Orleans, Massachusetts is estimated to generate over $5,000 annually! Each year, it will crank out approximately 14,555 kWh of clean energy for its Cape Cod homeowner.
Going Solar in Orleans, MA
Many Orleans residents want to save the environment, but you'll save so much more when you choose solar. According to Boston.com, "the average Massachusetts household can save an estimated $35,900 over the next 20 years by installing a rooftop solar system."
Whether you live in Orleans or anywhere else in Massachusetts, contact us for a free site assessment. Afterward, we'll give you a cost estimate tailored to your unique home or business.
Consumer Reports states that "buying your solar electric system outright is best." If those expenses are a concern, you can consider a Mass Solar Loan. Loans allow you to reap solar savings without a hefty up-front cost.
The cherry on top of your annual financial savings is the value that solar panels add to your home. Money estimates that "solar panels raise a home's value by 4.1%." Therefore, if you sell your home someday, you'll get to take advantage of the final benefit that solar panels provide.
Contact us for a free site assessment Find out if solar could work for your Orleans home!