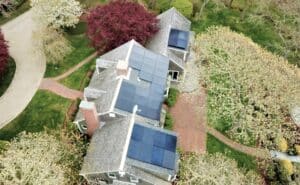 Solar panels will save this Chatham homeowner about $7,390 every year! This residential installation on Cape Cod generates roughly 19,974 kWh of clean energy every year.
Are you curious about how much you could save by going solar? Contact us to receive a free assessment for your home or business. Following that, we will provide an estimate tailored to your unique property.
Consumer Reports states that "buying your solar electric system outright is best." But there's no need to worry if you can't foot the bill on your own. Whether you live in Chatham or anywhere else in Massachusetts, consider a Mass Solar Loan for a more affordable way to go solar. Loans allow you to purchase your solar array so that you can reap maximum savings.
In addition to saving money on your electric bills, you'll be adding a significant amount to your home's value. Money estimates that "solar panels raise a home's value by 4.1%." So even when you sell your home, your solar installation will be lining your pockets.
Contact us for a free site assessment Find out if solar could work for your Chatham home!