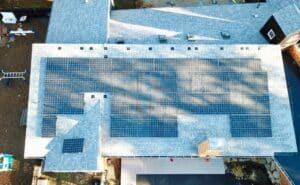 Cape Cod's nonprofit organizations can reap the rewards of solar energy – without the costs.
Since 2015, our partner Luminous Solar LLC has been using local investment to help Cape Cod nonprofits go solar. In addition to providing value, Luminous's model also keeps all the energy dollars within the community, improving the Cape's environment and economy.
We usually recommend owning your solar array outright, but nonprofits are one exception for whom we condone solar leasing. Leasing allows organizations to receive the benefits of solar without any costs.
The Cape Cod Children's Place in Eastham, Massachusetts recently installed this 53-panel, 17.75 kW array. We partnered with Luminous Solar in order to deliver high-quality solar energy to their roof, and it didn't cost the Children's Place a penny.
Keep doing your good work, and let us take care of the rest.
Contact us for a free site assessment Find out if solar could work for your nonprofit!