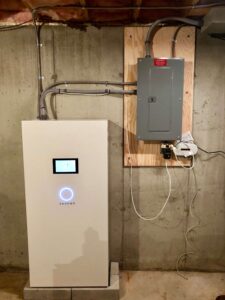 The Clean Energy Bill passed on July 31st mandates that Massachusetts must increase its clean energy storage dramatically by 2025. This means that solar batteries, like our Sonnen devices, are poised to become crucial components in the renewable energy systems of the near future. Read on to learn about why solar battery storage might make sense for you.
5 benefits of solar battery storage
Solar batteries allow you to store the unused energy that your system generates for use at a future time. In this way, you can use more of the energy that your solar panels produce.
Use solar energy even when sun isn't shining
Night time is the right time for your battery storage to shine. Gather excess energy from your panels during sunny days and store it for evenings or long stretches of cloudy days.
Power outage saviors
Here we are in the midst of hurricane season, and the forecast is not good for the Eastern seaboard. And remember last winter's storms? Planning ahead now to implement battery storage might save you during a storm. Solar batteries provide a clean and reliable energy source during power outages.
Avoid peak demand charges
In a historic decision this summer, the Massachusetts State legislature approved Eversource's proposal to levy peak demand charges on solar customers. Sadly, this makes it more likely that other utility companies will follow suit. With a solar-powered battery like the excellent Sonnen models we carry, the "time of use" function allows you to avoid these unfair fees.
Promote clean energy independence
Solar battery storage can give customers greater independence from unsustainable fossil fuel-burning electricity sources. Whereas many Massachusetts solar customers who don't have batteries must rely on the grid for power in some circumstances, installing a battery allows you to save the extra power your system creates for future use.
Saves wholesale electricity costs
The Northeast experienced brutal heat waves this summer. Green Mountain Power, Vermont's largest utility company, estimated that it was able to save $500,000 over the first week in July due to its distributed energy storage facilities. Savings like that allow utility companies and their customers to purchase much cheaper electricity, stabilize the grid, and lower power demand.
What other ways might you use a solar battery? We look forward to seeing innovation in this area over the coming years.
If you're interested in learning more about solar batteries, or need help determining whether solar battery storage is the right choice for you, give us a call. Most importantly, choose wisely when selecting your battery. We use only the safest and most reliable in home battery storage systems on the market, so we can offer you the highest in quality.
SaveSave
SaveSave