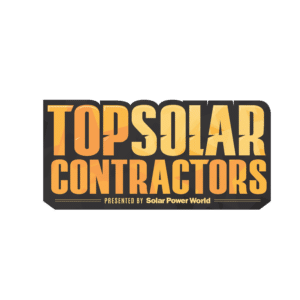 With the United States receiving significant federal support of solar and storage in the Inflation Reduction Act, excitement for the technologies is growing at a record pace. Solar developers, installers and contractors are capitalizing on the moment by building more substantial projects across the country. My Generation Energy was recognized for its increased effort to expand the U.S. market by taking a top spot on the 2023 Top Solar Contractors List, released today by Solar Power World.
The Top Solar Contractors List is developed each year by industry magazine Solar Power World to honor the work of solar installers in the United States. Solar firms in the utility, commercial and residential markets are ranked by the number of kilowatts they installed in the previous year. Companies are grouped and listed by specific services, markets and states. My Generation Energy is ranked No. 274 in the nation.
"Renewable energy accounts for a quarter of U.S. electrical generation, now far exceeding electricity produced by burning coal," said Kelsey Misbrener, managing editor of Solar Power World. "Solar power is an important member of that renewable makeup, and companies on the Top Solar Contractors List are all contributing to our country's shift to cleaner electricity. We are honored to recognize them each year for their necessary work putting green kilowatts on roofs, over parking lots, in desert locations and across water reservoirs. Every project is making a difference."
The United States reported its strongest first-quarter ever in Q1 2023 for solar panels installed, and industry analysts expect the solar market to triple in size over the next five years. The industry will stay busy, and companies on the Top Solar Contractors List will be the ones with their boots on the ground — or roof.
My Generation Energy employs 20 workers and installed 2571.90 kW of solar power in 2022. Since its founding in 2009 the company has installed over 29,700 kW of solar.
"It's a great honor to be considered one of the top solar installers in the country," said Andrew Wade, President, and CEO of My Generation Energy.  "I am immensely proud of our company's journey, and we will continue to deliver cutting-edge solar solutions for our Massachusetts-based customers.  Our sustained growth is a testament to the hard work and dedication of our team and the trust and confidence bestowed upon us by our customers."
About My Generation Energy
My Generation Energy specializes in the highest quality solar design and installation serving Cape Cod & the Islands, Greater Boston, the South Shore and South Coast of Massachusetts. We perform everything–from assessment, permitting, project implementation, commissioning to follow-up monitoring and performance assurance. My Generation Energy has installed systems with 5 solar panels up to 5,000 solar panels across a range of settings: residences, commercial real estate, ground-mount, non-profit, and more.
About Solar Power World
Solar Power World is the leading online and print resource for news and information regarding solar installation, development and technology. Since 2011, SPW has helped U.S. solar contractors — including installers, developers and EPCs in all markets — grow their businesses and do their jobs better.
Are you thinking about installing solar?  My Generation Energy has been installing the highest quality solar design and installation on Cape Cod, the South Shore, South Coast and Greater Boston area since 2008.  
Contact us for a free site assessment and find out if solar could work for your home or business!